MSP-EXP432P401R LaunchPad and ADXL345 3-axis accelerometer example
In this example we show how to connect a ADXL345 3-axis accelerometer to a MSP-EXP432P401R LaunchPad, the example will use the Energia IDE.
I used a ADXL345 module in this example, which you can see below
The ADXL345 is a small, thin, low power, 3-axis accelerometer with high resolution (13-bit) measurement at up to ±16g. Digital output data is formatted as 16-bit twos complement and is accessible through either a SPI (3- or 4-wire) or I2C digital interface.
The ADXL345 is well suited for mobile device applications. It measures the static acceleration of gravity in tilt-sensing applications, as well as dynamic acceleration resulting from motion or shock. Its high resolution (4 mg/LSB) enables measurement of inclination changes less than 1.0°.
More info – http://www.analog.com/en/products/mems/accelerometers/adxl345.html#product-overview
Connection
Here is a picture of the launchpad so you can see what pins we are referring to below in the table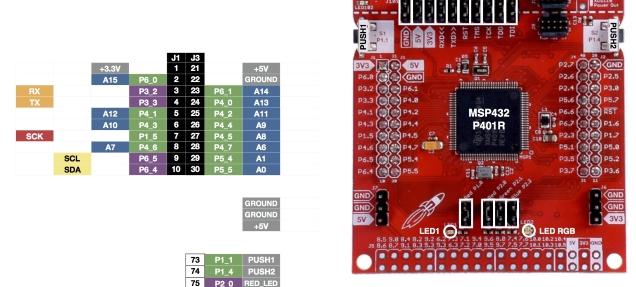 | | |
| --- | --- |
| Module Connection | MSP432 Connection |
| SDA | J1-10 SDA |
| SCL | J1-9 SCL |
| Gnd | J3-22 Gnd |
| Vcc | J1-1 3.3v |
Code
[codesyntax lang="cpp"]
#include <Wire.h>

// ADXL345 I2C address is 0x53(83)
#define Addr 0x53

void setup()
{
  // Initialise I2C communication as MASTER
  Wire.begin();
  // Initialise serial communication, set baud rate = 9600
  Serial.begin(9600);
  
  // Start I2C Transmission
  Wire.beginTransmission(Addr);
  // Select bandwidth rate register
  Wire.write(0x2C);
  // Normal mode, Output data rate = 100 Hz
  Wire.write(0x0A);
  // Stop I2C transmission
  Wire.endTransmission();
  
  // Start I2C Transmission
  Wire.beginTransmission(Addr);
  // Select power control register
  Wire.write(0x2D);
  // Auto-sleep disable
  Wire.write(0x08);
  // Stop I2C transmission
  Wire.endTransmission();
  
  // Start I2C Transmission
  Wire.beginTransmission(Addr);
  // Select data format register
  Wire.write(0x31);
  // Self test disabled, 4-wire interface, Full resolution, Range = +/-2g
  Wire.write(0x08);
  // Stop I2C transmission
  Wire.endTransmission();
  delay(300);
}

void loop()
{
  unsigned int data[6];
  for(int i = 0; i < 6; i++)
  {
    // Start I2C Transmission
    Wire.beginTransmission(Addr);
    // Select data register
    Wire.write((50 + i));
    // Stop I2C transmission
    Wire.endTransmission();
    
    // Request 1 byte of data
    Wire.requestFrom(Addr, 1);
    
    // Read 6 bytes of data
    // xAccl lsb, xAccl msb, yAccl lsb, yAccl msb, zAccl lsb, zAccl msb
    if(Wire.available() == 1)
    {
      data[i] = Wire.read();
    }
  }
  
  // Convert the data to 10-bits
  int xAccl = (((data[1] & 0x03) * 256) + data[0]);
  if(xAccl > 511)
  {
    xAccl -= 1024;
  }
  int yAccl = (((data[3] & 0x03) * 256) + data[2]);
  if(yAccl > 511)
  {
    yAccl -= 1024;
  }
  int zAccl = (((data[5] & 0x03) * 256) + data[4]);
  if(zAccl > 511)
  {
    zAccl -= 1024;
  }
  
  // Output data to serial monitor
  Serial.print("Acceleration in X-Axis is : ");
  Serial.println(xAccl);
  Serial.print("Acceleration in Y-Axis is : ");
  Serial.println(yAccl);
  Serial.print("Acceleration in Z-Axis is : ");
  Serial.println(zAccl);
  delay(300);
}
[/codesyntax]
Output
Open the serial monitor and you should see something like this
Acceleration in X-Axis is : 141
Acceleration in Y-Axis is : -74
Acceleration in Z-Axis is : 200
Acceleration in X-Axis is : 142
Acceleration in Y-Axis is : -74
Acceleration in Z-Axis is : 199
Acceleration in X-Axis is : 141
Acceleration in Y-Axis is : -74
Acceleration in Z-Axis is : 199
Acceleration in X-Axis is : 129
Acceleration in Y-Axis is : -59
Acceleration in Z-Axis is : 272
Acceleration in X-Axis is : 203
Acceleration in Y-Axis is : -72
Acceleration in Z-Axis is : 160
Links
GY-291 ADXL345 3-Axis Digital Gravity Sensor Acceleration Module IIC/SPI transmission