MSP-EXP432P401R LaunchPad and MMA7660FC accelerometer example
In this example we show how to connect a MMA7660FC accelerometer to a MSP-EXP432P401R LaunchPad, the example will use the Energia IDE.
I used a MMA7660FC module in this example, which you can see below
The MMA7660FC is a digital output I²C, very low-power, low-profile capacitive micro-machined accelerometer featuring a low pass filter, compensation for zero-g offset and gain errors and conversion to six-bit digital values at a user configurable output data rate. The device can be used for sensor data changes, product orientation and gesture detection through an interrupt pin (INT).
Learn more – MMA7660 webpage
Connection
Here is a picture of the launchpad so you can see what pins we are referring to below in the table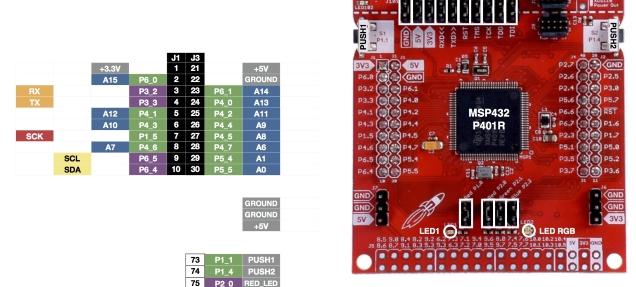 | | |
| --- | --- |
| Module Connection | MSP432 Connection |
| SDA | J1-10 SDA |
| SCL | J1-9 SCL |
| Gnd | J3-22 Gnd |
| Vcc | J1-1 3.3v |
Code
[codesyntax lang="cpp"]
#include <Wire.h>

// MMA7660FC I2C address is 0x4C(76)
#define Addr 0x4C

void setup() 
{
  // Initialise I2C communication as MASTER
  Wire.begin();
  // Initialise Serial Communication, set baud rate = 9600
  Serial.begin(9600);
  
  // Start I2C Transmission
  Wire.beginTransmission(Addr);
  // Select mode register
  Wire.write(0x07);
  // Select active mode
  Wire.write(0x01);
  // Stop I2C Transmission
  Wire.endTransmission();

  // Start I2C Transmission
  Wire.beginTransmission(Addr);
  // Select sample rate register register
  Wire.write(0x08);
  // 1 sample per second
  Wire.write(0x07);
  // Stop I2C Transmission
  Wire.endTransmission();
  delay(300);
}

void loop()
{
  unsigned int data[3];
  
  // Start I2C Transmission
  Wire.beginTransmission(Addr);
  // Select Data Register
  Wire.write(0x00);
  // Stop I2C Transmission
  Wire.endTransmission();
    
  // Request 3 bytes of data
  Wire.requestFrom(Addr, 3);
  
  // Read the three bytes 
  // xAccl, yAccl, zAccl
  if(Wire.available() == 3) 
  {
    data[0] = Wire.read();
    data[1] = Wire.read();
    data[2] = Wire.read();
  }  

  // Convert the data to 6-bits
  int xAccl = data[0] & 0x3F;
  if(xAccl > 31)
  {
    xAccl -= 64;
  }
  int yAccl = data[1] & 0x3F; 
  if(yAccl > 31)
  {
    yAccl -= 64;
  }
  int zAccl = data[2] & 0x3F;  
  if(zAccl > 31)
  {
    zAccl -= 64;
  }
    
  // Output data to serial monitor
  Serial.print("Acceleration in X-Axis :");
  Serial.println(xAccl);
  Serial.print("Acceleration in Y-Axis :");
  Serial.println(yAccl);
  Serial.print("Acceleration in Z-Axis :");
  Serial.println(zAccl) ;
  delay(500); 
}
[/codesyntax]
Output
Open the serial monitor and you should see something like this
Acceleration in X-Axis :-10
Acceleration in Y-Axis :-6
Acceleration in Z-Axis :17
Acceleration in X-Axis :-10
Acceleration in Y-Axis :-6
Acceleration in Z-Axis :18
Acceleration in X-Axis :-11
Acceleration in Y-Axis :-6
Acceleration in Z-Axis :17
Acceleration in X-Axis :-12
Acceleration in Y-Axis :-7
Acceleration in Z-Axis :18
Links
1PCS NEW MMA7660 Replace MMA7260 3 Axis Triaxial accelerometer sensor module